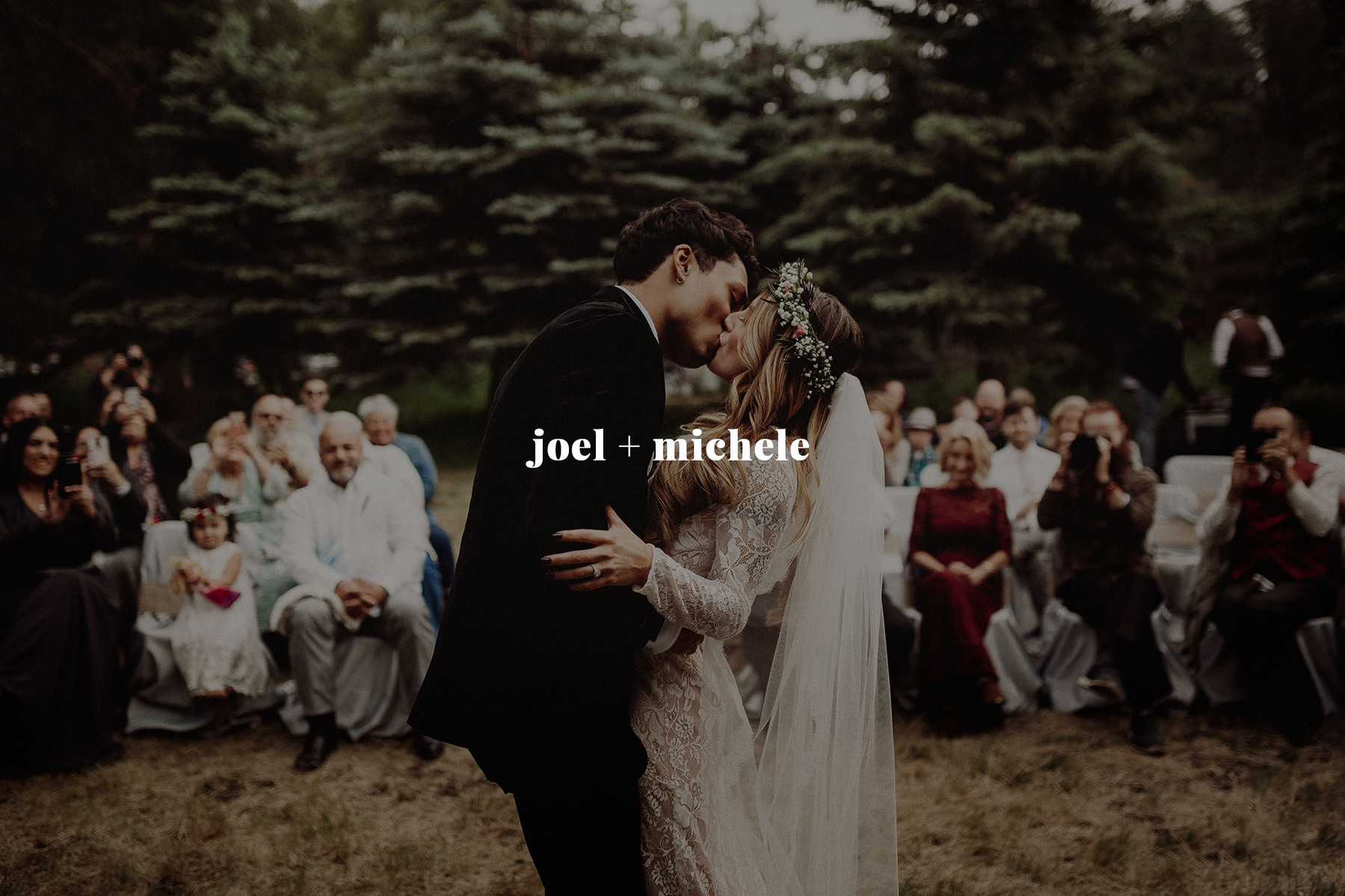 Before I get started, if you haven't already seen the in-home engagement shoot I did with these two, go check it out real quick! You'll instantly get a feel of who they are – creative, warm hearted, and hot AF. ;)
Joel + Michele live in Minneapolis, Minnesota and had their wedding in Denver, Colorado. The day of the wedding was freakin' beautiful – with fog (I died a little inside because I felt so LUCKY), chilly air, and friends + family from around the globe.
I love that they wanted to have a destination wedding in Colorado… it totally suits them. So, without further ado, here they are! Oh yeah, since I'm striving hard to shoot more destination weddings, I decided to ask Michele some questions about their experience with the whole "destination wedding" adventure, which I've included in this blog.

__________


Aminda Villa: Why did you choose to have a destination wedding? Did you always want a destination wedding?
The Brand Spanking New Mrs. Velez: : We really wanted a small and intimate wedding. We also wanted something different than what everyone else does. Another big thing for us was that we wanted everyone to enjoy a small vacation while they were out there and that's exactly what happened!
AV: What made you choose Colorado? Was it a random choice due to it's OBV beauty, or is there sentimental meaning behind the state?
TBSNMV: I love the mountains so much and it has been my dream to get married in the mountains for many years. Colorado was also our very first vacation alone together.
AV: Where did your guests stay? Did they stay before/after the wedding day, to "make a vacation out of it?"
TBSNMV: Most of our guests stayed in Airbnbs together! A lot of them arrived a few days early and stayed an extra day or two. The best part about the destination wedding is the people that love you most show up, so we were able to spend days before and after with those we loved most!
AV: How many people attended your wedding?
TBSNMV: We had about 50 people come to the wedding.
Crap Bag: Where did the wedding party get ready?
Princess Consuela Banana Hammock: The wedding party got ready at the Airbnbs we rented! When we were looking for rentals we chose houses that were large enough to get ready and houses are so much more beautiful than hotels!
AV: Did anyone forget anything at home? How did you handle that?

TBSNMV: My dad forgot all of his luggage (clothing, toiletries, I mean EVERYTHING) at home. No one told me anything until I was on my way to the venue for the ceremony. I'm sure my family was freaking out but everything worked out. My dad called one of my friends and had them go to our house, get the luggage, and ship everything overnight. Everything arrived the morning of the wedding. I'm sure it was stressful for him, but everyone sheltered me from the extra stress.
AV: You two chose to do a separate "Bride and Groom Session", which took place two days after your wedding day. How did you like it?
TBSNMV: Having the separate photoshoot was AMAZING! We really got to take our time and enjoy ourselves. On top of that we got to go somewhere that wouldn't have been possible on the wedding day for a million different reasons (time, weather, stress, destination). We were able to explore and hike high into the mountains which made for the dreamiest photos. Also, after the wedding there is no stress about getting your outfits dirty or ruining them, everything about this shoot was SO MUCH FUN! Aminda was such a freaking trooper and we hiked over 6 miles with one bottle of water to get pictures that we will love and cherish forever.
AV: Do you think having a destination wedding eliminated a lot of stress from the planning process? Why or why not?
TBSNMV: In some ways absolutely! In other ways, no. It was hard planning and not being able to physically see the venue. We had visited it before the wedding but it was winter when we visited (an outdoor venue) and summer when the wedding was to happen. The best part about destination was that the people that love you most show up which saves a lot of money on food and rentals. That saved us SO MUCH MONEY! And I feel that money is often one of the biggest stressors. When planning a destination wedding, you get what you get, and you decorate with what you bring, and you wear whatever you brought. It's that simple.
AV: Do you think having a destination wedding brought your two families closer?
TBSNMV: YES! This was the best part. Both of our families (who live in different states) were able to spend the entire weekend together. It added so much love and joy to the mix. IT WAS SO HAPPY!
AV: Did anything during your ceremony make you laugh?
TBSNMV: Well, we forgot to set up the communion… so we pretended to take communion. For the "unity" part of the ceremony we chose to do a "unity painting" and when we walked to the canvas… there was a spider on the canvas! I killed it with my hand because… well it's the middle of my wedding. Also, my Joel's brother married us and the two of them together are some of the funniest people I've ever met.

AV: How did you go about finding vendors so far away from home?
TBSNMV: Connections! We already knew we wanted a food truck, but connections always make things so much easier. We had an uncle who lived in Colorado who knew somebody who knew somebody else – and they knew a guy with a taco truck. We made a few daring phone calls and booked a taco truck for dirt cheap. I might be bias but it was THE BEST freaking wedding food I've ever had. (AV: IT WAS SERIOUSLY SO BOMB!) When it came to the rentals (chairs, tables, tents ) one of our groomsmen worked at a church in Denver and worked closely with a rental company at the church. Conveniently, I made some phone calls and name dropped and got an awesome deal on the rentals. Also, GOOGLE in general is the best for finding pretty much anything. 😊
AV: What was your biggest fear about having your wedding so far away from home? How did that play out?
TBSNMV: Of course there is the fear that you didn't think about something – like to put signs out on the road, or what if my wedding dress gets ruined on my way there, or what if the Airbnb is terrible, or what if the tacos are terrible!? We didn't get to try anything because we were so far away – but in those moments we just had to believe and trust that God was going to make it awesome. Things never go exactly as planned – the weather was terribly hot the days before and the venue was insanely buggy. On the actual wedding day the temperature dropped almost fifty degrees and it was so foggy you couldn't even tell we were in the mountains. At first I was disappointed but it ended up being the most magical thing!! The best part, we knew we had a second photoshoot scheduled for two days later so I KNEW either way, I was going to get my mountain photos I have always wanted. You can't plan the weather, but Aminda helped us prepare in a way that made all my little girl dreams come true.
AV: What was the BEST thing about having your wedding in Colorado?
TBSNMV: The scenery and vibe are UNREAL. When you are in the mountains everything slows down, which was exactly what we wanted everyone to experience.

AV: If you could give a piece of advice to a couple planning a destination wedding, or any wedding in general, what would it be?
TBSNMV: Communicate when you need help, and LET THEM help you. There is no reason to stress so much about something that only lasts a few hours. Everyone had told me the same thing before we got married, you truly have to learn to trust people and lean on people.


AV: There are thousands of amazing wedding photographers — why did you choose me?
TBSNMV: I have wanted Aminda to take my wedding photos since she started shooting what had to have been six or seven years ago now! She just *gets* my vibe – which was SUPER important to Joel and I. Why have boring normal wedding photos when they can be actual ART? Aminda was willing to get amazing shots that took standing in freezing cold while it was raining, hiking a mountain under the extremely hot sun, and she stayed with us throughout the entire wedding day. She captured intimate moments not only between us – but between family members and friends as well, which we love. Aminda's photos literally make everything carry such a depth and so much more emotion. All of her photos tell a story and that is exactly what we wanted. Also, she is just super badass and we love her a crap ton.
AV: What are your top 3 absolutely most favorite images from your entire set?
TBSNMV: This is a so tough! But the top three would have to be:
THANK YOU Michele + Joel for taking me to Colorado to spend time with your families and trusting me to document your day. I enjoyed every second of it! <3

Want me to shoot your wedding? Shoot me an email (AV@amindavilla.com) or a text (763-607-5754) and we'll get this party started.

Want to see more weddings? Here you go!