Personal // An afternoon in Tijuana, Mexico
May 2, 2019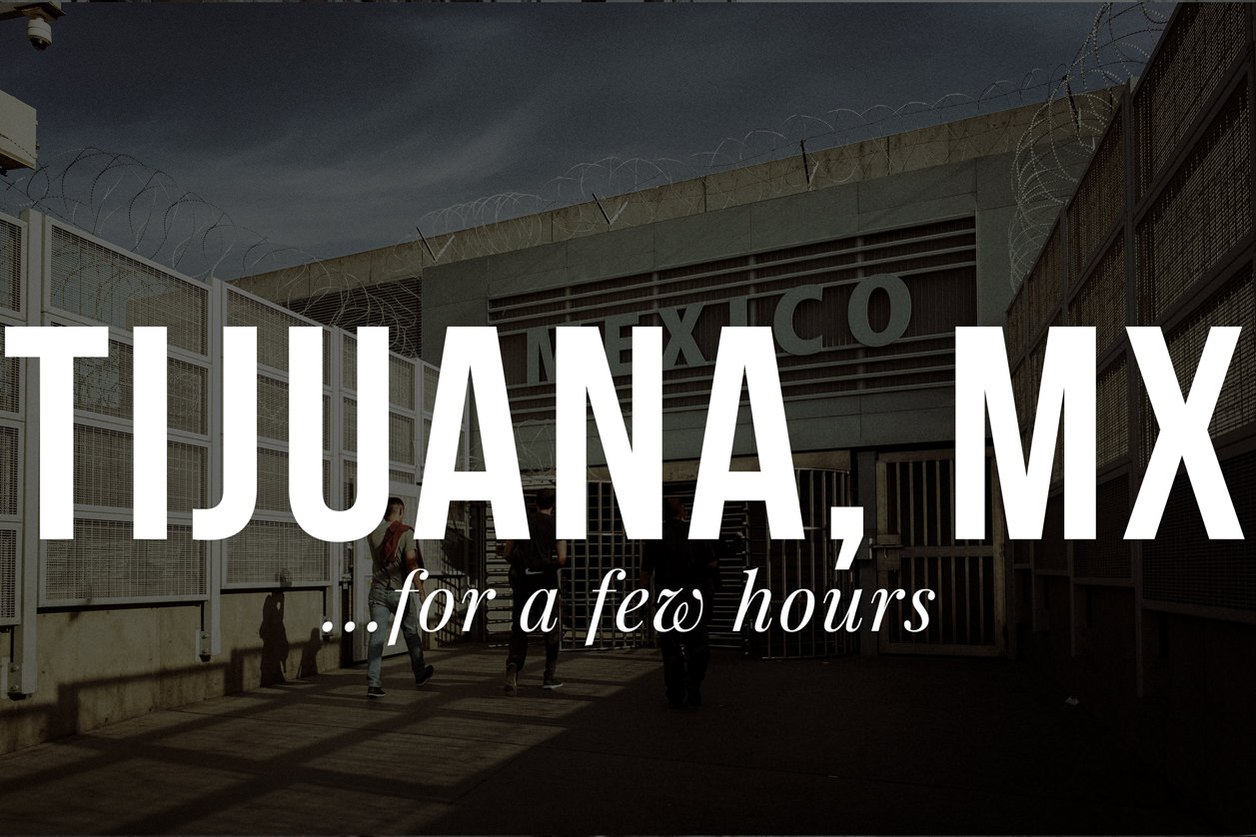 I shot a wedding in San Diego, California a couple of weeks ago and every time I shoot a destination wedding, I arrive a couple of days before the wedding, and stay a couple of days after the wedding. This is the main reason why I love destination weddings so much - getting to travel to a place I might not otherwise have thought about visiting.

Travel makes me feel free and creative, so THANK YOU to all of you people out there who have ever considered me/hired me for a "destination wedding" or gig. It's like adding gas to my emotional tank.

So anyways - one of the things I really wanted to do while I was in San Diego was to visit the California/Mexico border. The border connecting San Diego, California, and Tijuana, Mexico, is the busiest port of entry along the US/Mexico border, and with Trump and his wall, I was very curious if there would be anything going on – like people protesting, an overload of security, or just general tension for example.

I hope that doesn't make me sound ignorant. I guess what I'm trying to say is that I didn't know what to expect. Although I've previously visited a couple of small non-restort towns in Mexico and of course totally understand that there is so. much. more. – it still has always been engrained in my mind (and I'm sure many other mid-westerners?)that Mexico is a place that you really only access by plane, mayyyybe a couple of times in your life, and usually for vacation. You step onto a plane in a puffy winter jacket, and step off of it several hours later, stripping off your layers in "paradise". So, I felt strange as I packed my fanny pack to walk there from… from… somewhere? I wasn't quite sure where I'd park my rental car (which I wasn't allowed to drive across, policy of the rental place) before crossing… I figured I'd ask around at gas stations, or see signs as I got closer.
Anyways, I went to buy a new pair of shoes at the outlet mall before heading to the border, and I noticed at the mall that 95% of the employees at this huge mall were Mexican. I started listening to their conversations, hearing many lines dropped about "going back to TJ" – TJ being Tijuana.

In another store (Planet Beauty… the BEST!!), I struck up a conversation with the woman working the front counter, she was about my age and seemed cool and looked like she had time to chat, and had been talking about TJ with her coworker. I asked her how I could cross the border, expecting a long, drawn out answer with where to go, who to pay to take a shuttle (there are signs for shuttles to TJ all over this area), ETC ETC. She just replied "just park over by the Nike store and you can walk… do you want recommendations on where to eat once you're there?" and she scribbled a few places for me to check out once I crossed. It blew my mind how easy it was, chill, nothing, normal.

I didn't feel 100% about parking at the Nike store and crossing because I'm a freak about parking tickets, so I paid $8 to park in a lot next door. There are little signs "this way to the Pedestrian crossing" and a ton of people flowing in that direction, still dressed in their work uniforms or carrying their bags from Forever 21 and Old Navy, so I just followed.

Before crossing, I used the bathroom inside of this food court, which you had to pay to use.

Then, after that, you just turn the corner and boom, you're on the path to Mexico! There was only a handful of people around me at this point, seemingly strolling back to TJ as, I assume, they do everyday. Still no signs, no protestors, no lines, no nothing. It felt kind of deserted, actually.

As I was crossing the bridge after going through security, I saw the backup of cars crossing through security.
The first thing I saw when coming down from the entrance… pancakes! (real name, anyone?) I bought a bag – 20 pesos or about 1 USD.
I walked a little bit further, past the herd of taxis and found a bench to chill, eat my pancakes and lookup where the fuck I was going to go now.

This guy was sweet and funny - posing against the cars (my pocket camera was slung around my wrist) and saying a few english phrases (Hello! How long are you here? I am a model! Do you need help?") to me as I sat down.
After trying to chat with me a little, he turned to a couple of security guards (that seemed to be his friends) that were just to the right of this shot, telling them I was his girlfriend and so on… they later found out I could speak Spanish (mas o menos) when they asked me, in Spanish, what I was doing there and to their surprise - I actually responded, in Spanish. They instantly began laughing their asses off continued to ask me "soooo, you knew what we were saying all along?!!.." Hehehe.

I found a brewery on a map and it seemed to have lots other food + drink spots near by, about a mile away, so I was going to walk there… I started walking and a taxi driver stopped me on the street and told me I should take his taxi instead, because the walk was dangerous. I don't know if it truly is, or if he was just trying to get me to buy a ride, but I said no thanks and I took an Uber instead. Ubers are cheaper and I know they won't try to overcharge me, because, well, they can't.

I hopped out of the Uber when it started to feel like I was in "the spot" and just started following the sound of music and I found this bar!

The owner's daughter was a waitress, 19 years old. We talked for about 20 minutes. She was fascinated with my tattoos and told me her tattoo plans. I bought a beer and while chatting with her, and that's when Ramon (see selfie below) swept me off my feet for a dance, then insisted I finish my beer with his family, who were all crowded around a little four-top, leaning in close, smiling, laughing, singing. Simply being in their presence instantly lifted me up.
After a few more songs, I headed back towards the border, in a little mini-panic/realization that, oh shit, there's a possibility that the lines to enter the USA could be backed up as all hell, and I have a flight to Colombia to catch in about 13 hours. But they weren't, not too bad anyways. I waited in line for about 30 minutes. I listened to the father behind me tell his daughter a story about a dragon, a princess and her castle. I laughed in my head, admiring his enthusiasm and her faith in his tale.


So I'm not really sure what my conclusion is from this afternoon… but I'm just glad I got to do this, and am grateful for the warm welcome that I received.
I'm going to try and blog random little day-adventures/personal stuff like this because I have so many random photos that never see the light of day, and I want them to have somewhere to live, where I can go back and read and remember the moments they came from.